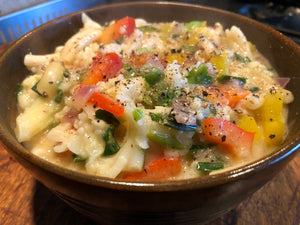 Recipes for the week starting October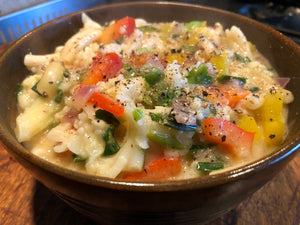 This is a comforting and light take on cauliflower cheese - loads of fresh veg packed in there, and the cheese sauce is made with stock rather than milk so it's fresh and light: Cauliflower and Everything cheese
This is a Kumara and spinach curry - it has warm spices but not chilli heat. Loads of vegetables and creamy coconut milk. Yum.
This Smoky Lentil Stew is perfect for pouring over split baked potato or baking on top of corn chips... your call.  The smoky flavour comes from smoked paprika, it has carrots, onion and celery melted down as its starting point, and the red lentils don't take long to cook at all... Loads of things to love!
This is a bit of a one pot wonder - a Rustic Chicken Simmer featuring chicken thighs ( my favourite bit), mushrooms, potato and red onion, simmered in stock and wine (optional) and finished with a bit of cream for a luxurious touch at the end...
When I heard that Janefield Hydroponics had Shanghai/Bok Choi available this week I went hunting for a recipe like this - and I found one! Sichuan Beef with wilted Chinese Greens - Sichuan pepper is actually not a true peppercorn, it's spicy but not so much peppery hot. We'll have them toasted and ground for you already, so you can make this even quicker: Dredge the beef in spices, sear it, when it's cooked lift it out and add some other Asian staples to the pan (oyster sauce, ginger, soy, sesame oil) and some water, then the bok choi - actually Shanghai, bok choi is taller - cook gently until the greens are wilted and the plate up and enjoy.