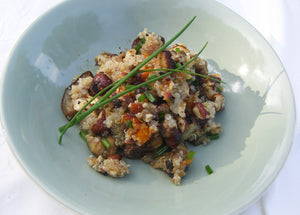 More inspiration from the library! Recipes for the 2nd week of February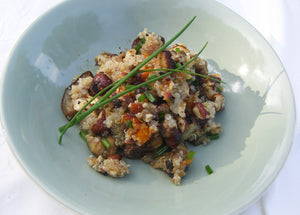 This week we're starting off with an Eggplant, quinoa and hazelnut salad. It has carrots, some warm spices (cumin, coriander, cinnamon) and lemon to brighten it up. Is very quick, very good!
  This is a bit arty with the drizzle of minted oil ; it's a really silky soup, quick to make, a bit of heat from fresh chilli and smokiness from smoked paprika: Split pea and kumara soup.
This French lentil dhal is made with onions and fresh tomatoes, a bit of chilli, a bit of coriander. It's pretty quick and easy to make, has texture from the lentils and colour and flavour from the tomatoes and coriander... And handy because you can use it with flatbreads, over rice, as a dip. It makes quite a bit so you may be trying all of the above...
This is a Chicken Shawarma - it has a lemony garlicky turmeric marinade for the chicken, then a quick cook in a hot pan. Have it with  flatbread with crispy pickles or salad...
And finally the Palestinian beef - this has loads of flavour layers - caraway, coriander, cumin and garlic at the start, then sumac, tahini, sesame oil and red wine vinegar at the end. It has chickpeas and chard as well...
For a quick and handy flatbread recipe, check out this previous blog: Flatbread and twisty bread sticks
So here are the books from the library largely responsible for this week's ideas! Plenty More will be returning to a library near you shortly, but don't look for the other two any time soon - three renewals allowed, right?