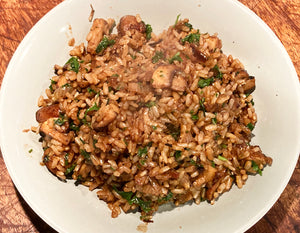 Toasted brown rice, peach and avocado salsa, smashed potatoes... welcome to week 2 of February!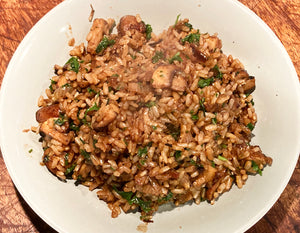 This is kind of like a risotto but made with brown rice, Swiss brown mushrooms (My favourite) and thyme, a bit of parsley and some lemon rind. Toasted Rice with Mushrooms is great - we had it with a mix of lightly cooked  spring onions, courgette and fresh corn shucked from the cob...
Msa'aa is one of those Middle Eastern dishes that has two components, and they stack inside each other like Russian dolls: you set a bunch of summer veg roasting, then while that's happening you make a tomato gravy which you then pour through the roast veg. There you go, that's pretty much all there is to it!
This Mushroom and Kale frittata could equally be made with spinach ... or chard ... the trick with frittata is to not stir it once the eggs are in the pan... sounds easy but I do find it hard to resist!
These smashed potatoes are good with anything really. Here we've teamed them with Seared Lamb rump and a bean, corn and capsicum veg mix. Again, the different components stack inside one another and then they're magically all ready at the same time...
It was the peach and avocado salsa that put this one on the list for this week, because you know, we have peaches and avocados at the moment. The Jamaican spiced chicken drums (or thighs if you prefer) are also a very good time. 
So those are this week's options - we're considering putting together an online  archive of all the recipes we've used over the past couple of years; let me know if that would be a welcome thing for your household. Thanks!