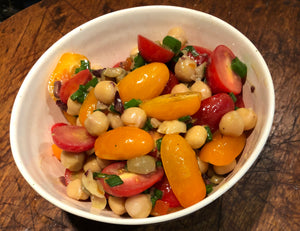 Salads, meatloaf twice and soup... what's not to love?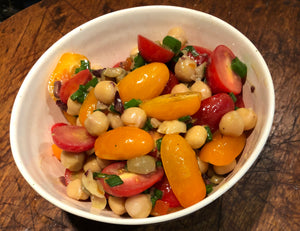 This Chickpea and Tomato salad has a green olive dressing. It's really simple to make, super quick and oh so tasty! Loads of chives and basil also ...
This recipe claims to be the best ever vegetarian meatloaf - or eatloaf - and the ingredients are certainly promising. Haven't tried many others for comparative purposes but this is REALLY good! Has walnuts and cashews, two types of cheese, and eggs. So definitely not vegan......
This Turmeric and Kale laksa can be either vegetarian or pescatarian - you can have either button mushrooms or fish! Either way it's light and delicious. Has fresh grated turmeric and ginger, coconut milk, rice noodles and chilli flakes at your discretion.
This is the other Meatloaf recipe, served here with colcannon and relish but at this time of year you might prefer to pair it with a potato salad or a rice salad or that tomato and chickpea one ... or just have it with relish in a sandwich...Has  beef mince and extruded good quality pork sausages - a much better option than packaged sausage meat!
So there you have it - loads of fresh flavours and colours. Yay!