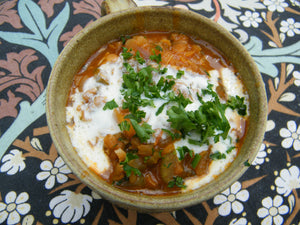 Slow food and quick food for week three, January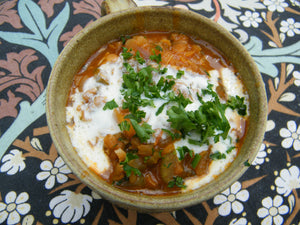 Pictured above is a Smoky lentil stew - it has red lentils, loads of vegetables, smoked paprika... it's quick to cook and very tasty.
This vegetarian option is  buckwheat with mushroom and spinach ... I really like whole buckwheat as an alternative to quinoa or rice or barley... it's quite nutty, quick to cook and nutritionally really valuable. And of course Gluten free...
These potato cakes are called Latke,  and the dip on the side is a roasted parsnip skordalia! Names to conjure with ...the latke has grated courgette also, and the roasted parsnip dip is simple and SO delicious! Both good ones to add to the recipe bank for multiple applications...
The Chicken sofrito is not quick but it is very easy. You sear the chicken then season it with sweet paprika and turmeric, add lemon juice, sit it on quartered onion in a heavy lidded casserole, and cook it stovetop on as low a heat as you can manage.  After an hour you add potato and garlic. That pretty much it. It is so meltingly tender, as it has basically steamed in its own juices (+lemon and garlic...) Is very very good... a crispy green salad would make a great contrast to go with.
The final recipe is for a Lamb and Beef mince Kofta - photo still to come. I've been reading Ottolengthi's Jerusalem cookbook which is very inspiring! (Lots of bits of paper sticking out of it ...) So the kofta have a great build up of flavours from a mix of spices...
The Jerusalem cookbook will have to go back to the library soon, I would highly recommend if you're like me and you read food for fun...