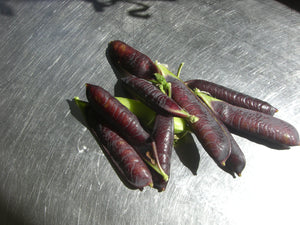 Purple podded peas! yum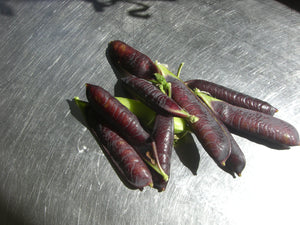 When I was a child our dad got some purple podded peas from his friend Mr Guy. These were just like ordinary peas when you ate them raw, but became like mini broadbeans when cooked. He called them peabeans.... they were delicious!
You couldn't get the seeds in a packet, you had to keep some each year for the following year's sowing. I carried around dried peabeans, planting them  and then keeping some for planting next year, in gardens in Dunedin, Mosgiel, Hastings, possibly even Whanganui. I think they were all gone by the time we were planting a garden in Wellington. So imagine my delight when these came through in the Kings Seeds catalogue! 
They are listed as blue-shelled peas, if you're looking for them. They look just the same - the flowers are purple, the pods are purple, the peas are green. But they are still peas when cooked, so the magic of turning into baby broadbeans is gone. Some people may say this is a good thing; I'm not going to comment here...
And it's not like we are short of baby broadbeans!
So this fistful of purple podded peas is going into a risotto this evening - risi e bisi is a traditional Venetian dish, with or without prosciutto. Very springy.