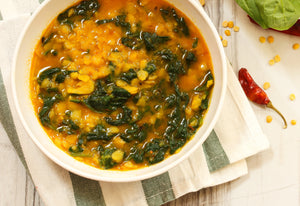 Recipes brought to you by the letters L and K, for the second week in August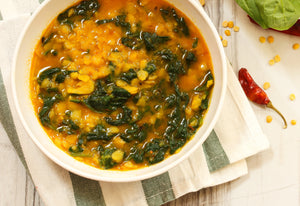 Lentil and kale soup for starters! Red lentils, loads of aromatics (garlic, onion, celery and carrot) spices (cumin, smoked paprika and chilli flakes) and of course, some kale... and a bit of time to let those flavours melt together... 
Next up, baked kumara with spiced cranberry rice. This is deceptively simple to prepare, and it tastes great. The kumara is baked in wedges, spiced with whole cumin seeds; while that's happening you cook some brown rice then toss that with the cranberries and a simple dressing with lemon, Lebanese 7 spice and olive oil... pile the kumara wedges onto a plate, pile the dressed rice and cranberries on top of the Kumara- done!
Kung Pao Cauliflower? You betcha! Roast the cauliflower with some red pepper flakes, then fry some aromatics, add the cauliflower and the sauce ingredients - Hoisin, sesame, cider vinegar ... scatter cashews over the top and some rings of spring onion, and serve with cooked rice. So easy, so quick, so tasty!
Chicken with two-tone slaw is a light fresh-flavoured dinner, and will only take you about half an hour to make! Two colours of cabbage in the slaw with avocado, a nut butter dressing, and juicy chicken thigh meat shredded over the top. Yum.
Slow cooked Jamaican spiced lamb, with Kumara Mash... this one is packed with zing (Lime juice and rind) and warm spices, cook it in the slow cooker and have dinner all set when you get home!
And there you have it...