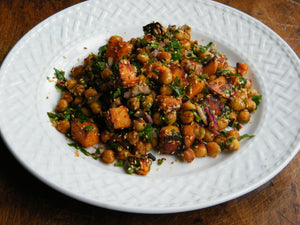 A lot of assorted curry recipes for 16th September... plus some others.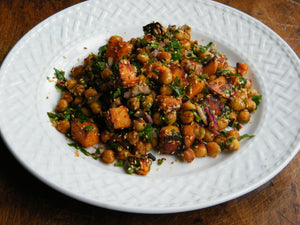 You sauté some diced kumara and then flavour it up with some cumin... mix together drained chickpeas, finely chopped red onion, some garlic and parsley, pile the kumara in along with some lemon, coriander, gochujaru and sesame seeds. That's pretty much it so it's quite quick (about half an hour) It's also delicious and as we move into warmer weather Kumara and Chickpea salad is a useful transitional meal! Is Vegan, DF and GF
Dry pea and potato curry is one of my favourites. It has loads of flavour but not too much heat and it's quick to make (and accessible for smaller people) which makes it a good family midweek option. It has potatoes, maybe a smidge of cauliflower, frozen peas and chopped mint. Vegan, DF and GF
This next one is Spicy braised tofu - you sauté the tofu for a little until crispy all over, then add soy/sesame oil/garlic/sugar/gochujaru and leave it to simmer, reducing the sauce and soaking up the flavours. It will be a good time, I promise... also Vegan, DF and GF (had a funny moment trying this out this morning - had the sauce ingredients in the bowl I usually have breakfast in... it was a close thing...)
The green gravy curries are either palak or saagwalla - they taste just as good either way... The dried fenugreek leaf (Kasuri methi) adds a distinctive flavour - that sounds a bit worrying now that I type it but the flavour is very fresh and 'green'! This is Palak Paneer, paneer being a fresh cheese kind of like a solid block of compressed cottage cheese. You can also substitute tofu, which would make this Palak Paneer potentially vegan, DF and GF. If you use paneer, the curry is vegetarian and GF.
There seem to be a lot of curries this week. The Turmeric and Kale laksa is a very substantial soup - or quite a liquid curry ... it has fresh ginger and turmeric, carrots, kale, fish and rice noodles. You could make this with white button mushrooms instead of the fish, giving you another vegan option. Both versions are DF and GF.
This is a one-pot wonder, full of fresh herby flavours (tarragon, thyme) and veg: red onion, leek, mushrooms, potato... it really is everything you need for dinner and while it take a bit longer to bake itself in the oven (maybe three quarters of an hour) you can be away doing something else while that happens. Country chicken onepot  is DF and GF - although the recipe suggests finishing off with some cream... this is definitely optional!