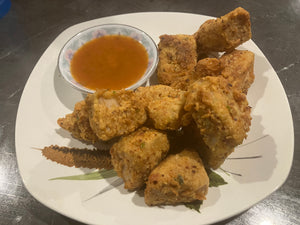 Recipes for the 9th of September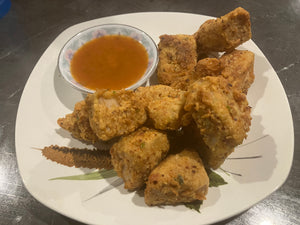 These tasty-looking bite-sized bits are in fact chunks of jackfruit, coated in (not quite 11) secret herbs and spices... they're really tasty and quite fun to make. Pair them with the condiment of your choice! Vegan, DF and GF (used chickpea flour in the crispy coating, and the recipe uses mylk + cider vinegar as the buttermilk substitute) -"Fried chicken" jackfruit chunks - crispy, and very tasty!
This creamy satay is a combo of chickpeas and carrot, peanut butter, coconut milk, tomato, fresh turmeric, ginger and garlic. It's very much comfort food - one to keep in mind when Spring forgets about warm! Chickpea and Carrot Satay is Vegan, DF and GF but obviously contains peanuts (allergy alert)
This one is so pretty! Those colourful bombs on top are chickpeas, fried til crispy then rolled in smoked paprika and cumin. The pilaf uses medium bulgur but you could substitute with buckwheat groats for an equally tasty gluten free option. Just let me know... Herbed bulgur Pilaf is vegan, DF and can be GF
Continuing the theme of small round starchy things, this is Pearl Couscous with greens and mushrooms. This whole thing will only take 15 minutes to make, and it's a very tasty bowl of food - the cooking water from the couscous becomes the silky sauce for the mushroom and greens... is very simple and satisfying. Vegan and DF but not GF. (you could sub brown rice for the couscous?)
Again, these Pork and apple meatballs in tomato gravy are super quick to make - half an hour tops and they're ready to eat. They have onion and apple in the meat  mix so they're fresh and light and loaded with herby brightness (oregano) as well. They are DF and GF.
And finally another mince-based meal - Sicilian Meatloaf uses either beef or venison mince squelched together with some tomato paste, oregano, egg and either breadcrumb or cooked rice. Then you make like a sponge roll: pat the meat mixture into a rough rectangle, cook some leafy greens with onion, garlic, maybe add some cheese and spread that onto the rectangle then roll it up! Make a sauce while it's cooking. There you go. This was fun to make and super yum. It can be GF but that's all.