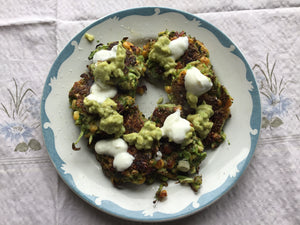 Recipes for 23rd September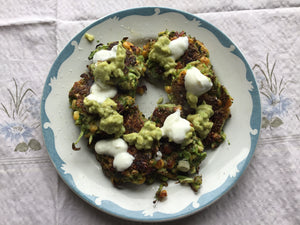 Fiery Chipotle fritters are what they say on the label: Hot, and frittery. A blitzed combo of broccoli, corn, spring onion and coriander with chipotle, oregano and thyme. They are very yum, and the level of heat is entirely up to you... The Chipotle gives a smoky flavour as well, so you can't do without it entirely... These are Vegan, DF and GF
There are a lot of elements in this one and the best result is had when you finely chop everything to about the same size. There's pearl barley, dried fruits (Apricot, dates, sundered tomatoes), flaked almonds and spices. It really is a meal all by itself, or you could pair it with some roasted chicken or kebab skewers of lamb... Morrocan spiced pearl barley salad is Vegan, DF 
This is essentially a sandwich spread - kind of like a hummus (It has blitzed chickpeas and tahini) but it has a lot of non-hummus spices and minced veg; also nutritional yeast for some extra B group vitamins. It is great on bread but I think you could also use it in heaps of other ways (Stir it through pasta? Or add to a risotto or a soup...) so I've included it here as a meal option - lunch is a meal after all. The Kale and chickpea spread is Vegan, DF and GF.
Ha! Same plate, different food... I do like finding non-typical uses for things - in this instance, the mung beans are not sprouted but cooked gently until tender and still whole. While the mung beans simmer, the carrots are roasting and caramelising in the oven along with a bunch of spices - cumin, caraway and fennel seeds, and some garlic.  From there this Carrot and Mung bean salad is simply a matter of compilation.This one has feta crumbled through it, but the feta can be omitted for Vegan, and goat for DF... is GF all the ways.
The crustless quiche with smoked salmon and kale has ground almonds - this is the health and safety warning for those of us who have nut allergies. The milk component can be non-dairy as can the hard cheese (pecorino subbed in for the parmesan), to make this one both Dairy and Gluten free. The seedy topping of sunflower, pumpkin kernels, sesame seeds and more ground almonds is very crunchy and delicious...
And finally there's a spring chicken salad with quinoa and cashew. Or perhaps a spring salad with chicken, cashew and quinoa... there's rocket, garlic, lemon and peas for fresh flavours and zing and it's super quick to put together using cooked chicken - only about 20 minutes all up. It's also DF and GF... and yum.