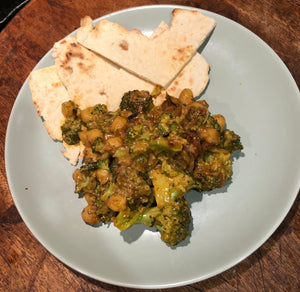 recipes for the first week of June... where did the year go?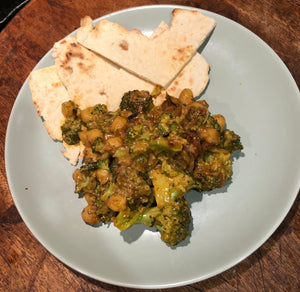 This first recipe is light, quick and super tasty. The Broccoli and Chickpea Satay comes with a bonus flatbread recipe that uses up the other half tin of coconut milk...
This beetroot and sunflower seed salad has baby leaves and could have either feta cubed or some marinated tofu, cubed and sauted before adding... either way it's a very good and tasty thing!
This sturdy winter warmer is a Lentil, lemon and spinach stew. Light flavours, plenty of substance and loads of things that are good for you! It has lentils, lemon, and spinach obviously, also potato, garlic, stock and seasoning to your taste... it's pretty simple!
You could roast up a whole chicken like this (remember, taking out the backbone and flattening the chicken saves you a LOT of time) or just cook up as many pieces as you need. Either way, marinading the chicken in sumac, lemon and za'atar makes for a succulent and delicious end result. Pieces will be quicker at the end of the day... since you have the oven on, you could roast up some veg to go with, or bake some potatoes and make a slaw?
So last week we had little pork sausages baked with apples, leaving me with some little pork sausages in the freezer... hence this week's spicy sausage and bean stew! Sausages of your choice - venison sausages, or skinny ones or beef ones... with smoked paprika, cumin and cinnamon, a bit of chilli, tomato, cannelini beans... you get the picture... Serve it with tortilla chips or bits of toast, or a creamy mash for ultimate comfort food!