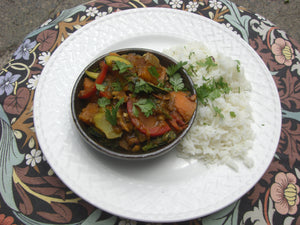 Some Very Tasty Things to eat, second week of June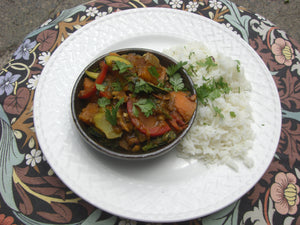 Lets start the way we mean to continue - Very Tasty food ... The vegetable Curry with cashews is full of warm flavours, and has creamy cashews as well. It's all good.
This is the cumin roasted Pumpkin, with tortilla. Add some perfectly ripe avocado, some crisp slaw, maybe a creamy dressing of some kind (or a dip made from broccoli and cashew...) and you have a very satisfying dinner/lunch/whenever.
We seem to be a bit nut focussed this week - This warm salad has Kumara, quinoa and hazelnuts, and a bit of green (because you have to eat your colours, yes?) Again, this is very soothing, comforting food, very satisfying but still light.
I had this for dinner last night and it was really good! Quick to make, light and delicious... it's a Phillipine Fish soup, has broccoli, tomatoes, fish sauce and lime juice. And Fish. This might be my pick for the week I think, closely followed by the next one: 
This one! Mmm... Masala roasted chicken, with yams and pumpkin. One of those things where you spend five minutes putting it together, then pop it in the oven and sort laundry or homework, or sit and have a chat with a friend... then eat and enjoy. Perfect.