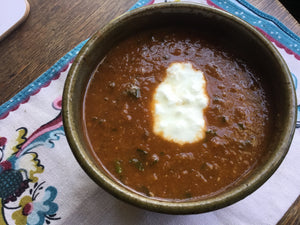 Winter is definitely here - curries and soups are order of the day...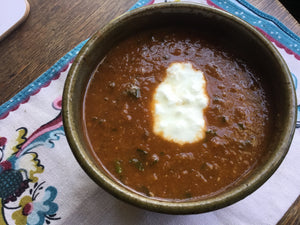 First up is a spicy tomato and lentil soup, guaranteed to fill then spot! it has paprika and garam masala, and as much chilli as you choose to add...
This is neither a curry nor a soup - it's a warm salad of Roasted Broccoli and hazelnuts, with grainy croutons, chunks of avocado and fresh tomato... the pictured version has courgette but I think we'll sub in cauliflower instead...
This is genuinely fast food - cauliflower fried rice with egg takes about 5 -10 minutes, and that includes grating the cauliflower! Add in as many other vegetables as you like or can get away with ...
This is my all-time favourite curry - palak gosht or saagwalla gosht: it's a lamb and spinach curry. The meat is meltingly tender! Takes a bit longer but you could do the slow bit in the slow cooker while you attend to other things...
And finally, pork sausages baked with apple - photo still to come, sorry!
This is very simple, very easy to prepare and really tastes good. You can add chunks of pumpkin and potato to the bake, then just cook up some greens and you'll have all the colour and flavour you could wish for!