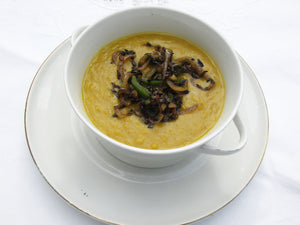 Recipes for the third week of May - winter warmers!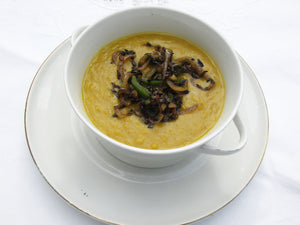 First up is a red lentil dhal with spicy onion topping... I think red lentil dhal is the definition of comfort food! The onions are spiced with cumin, fennel and mustard seeds. 
These handy wee things are crustless quiche with chard and feta (or tofu if you're going for the vegan option). They're GF also. You don't have to make them small like this, but these were so handy!
This Broccoli and cauliflower soup is exactly what it says on the tin: a soup made with broccoli and cauliflower ... and a bit of garlic, some stale bread (GF if necessary), and a swirl of sesame oil on top of the dollop of yoghurt. The sesame oil is surprisingly important to the overall flavour and finish...
The joy of this one is you can use whichever veg you wish... It's a winter risotto with steamed fish. So you can load it up with carrots, broccoli, cauliflower, celery, whatever else you have hiding in the veg drawer, it has a hit of fresh ginger as well. When the veg are just cooked, place fingers of fresh fish on top, put the lid on and steam the fish until just cooked. Is a good time.
This is another one where the slow cooker does all the work, and then you just pull it together at the end - Slow cooked shepherd's Pie. It has diced lamb or hogget slow cooked all day with a savoury mix of rosemary and tomato, some silverbeet for veg goodness as well... then at the end of the day you cook some potatoes (Agria in the boxes, perfect for mash) and mash them with your choice of milk - dairy or not! Maybe an egg to make it extra crispy... bake until golden. YUM