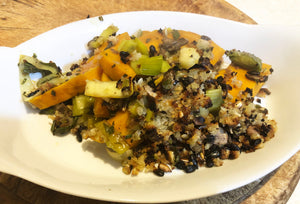 Recipes for the last week of winter...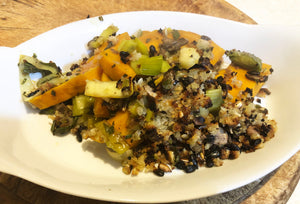 This is a Leek and Pumpkin gratin, light and delicious! As you can see when I made this it got a bit close to the heat but I'm confident you won't make that mistake... It has leek, pumpkin, mushroom, crispy breadcrumbs and toasted seeds (pumpkin and sunflower) on top.
Here's a curried chickpea salad - it has currants, warm flavours from garam masala, red onion, chickpeas, and coriander. Simple and delicious! Team it with flat bread and maybe some more curries - an Indian friend tells me you should have as many different curries as there are people at the table...
This Kumara salad uses red quinoa - it takes a little longer to cook, and the flavour is a little nuttier... or that could be the walnuts... Kumara salad with lime and walnut dressing - yum. 
This one is a bit flash, and utterly delicious: Salmon baked on a bed of celery, coated with a mustardy-tarragon infused oil...  there's a bit of time required while the salmon soaks up flavours from the oil, apart from that it won't take long at all....
And finally a fabulously creamy Lamb Korma. The creaminess comes from crushed raw cashews and coconut milk - if you sub out the lamb for a vegetable - kumara or jackfruit perhaps - it would be a vegan curry... Loads of spices, but we take care of all that for you! Flavoursome spices rather than hot...