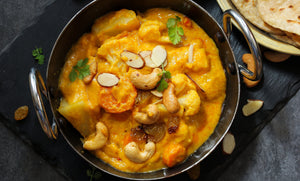 Watercress x2! Recipes to make the most of the first week of September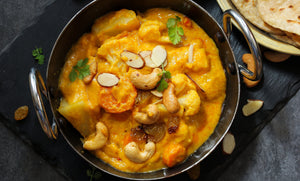 This is not one of the watercress recipes ... this one is a Kashmiri Vegetable Curry. Comes with a warming spice mix of cumin, cardamon, cinnamon, nutmeg and pepper (and as much fresh chilli as you choose to add) and big handfuls of fresh veg - cauliflower, broccoli, pumpkin, carrot and potato... creamy sauce with yoghurt and crunchy toasted cashews on top. Mmmm
We have pasta made at Artisan Pantry in Kaikorai Valley Road, the sauce is a cheery colour because you mash roasted pumpkin through it! Talk about secret veg... Well I guess its better not to, because then they wouldn't be so secret. So this is Pumpkin and Broccoli pasta... Roasted pumpkin and broccoli, flavour oomph from freshly grated nutmeg and capers... Is very good!
I love the colour in this... Broccoli (again) with watercress salsa.   We're going to lighten up the polenta by mixing through more veg - creamed corn and finely chopped broccoli - the watercress salsa gives a light peppery hit, the hazelnuts give it great texture... there's a lot going on in this plate...
These Morrocan Beef meatballs are light (minced cauliflower instead of breadcrumbs) and full of flavour - the spice mix has cumin, coriander, cinnamon, ginger and paprika. The longer you cook them, gently simmering on the stove or burbling away in the slow cooker, the deeper the flavours will get. Serve tucked into pita pockets or over couscous...
And again with the watercress; These are Spicy chicken thighs with watercress salsa. The spices are mixed into a paste with oil or coconut oil then plastered on the chicken, which sits on top of a whole lot of veg in a roasting dish. Result? Flavour goes everywhere. The salsa has watercress, and also olives, capers, mint, parsley, garlic, mustard... Enough said?