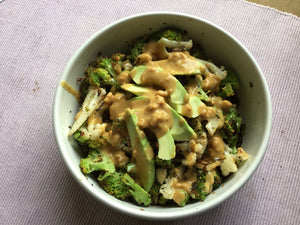 Salads, soups and stews... recipes for September second week...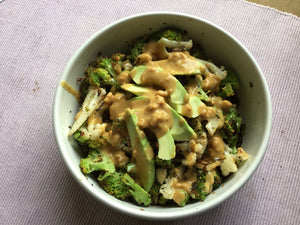 This first salad is super quick - charred cauliflower and broccoli salad with  toasted hazelnuts, and a peanut and mustard dressing... You could top it with a poached egg or sliced avocado as here... 
Here's the stew - Mushroom and lentil stew, with a potato and parsnip mash. This is very tasty ... has thyme, tomato and rosemary making for a fresh zingy flavour. The mash is creamy and yum... its a great combo.
And here's the soup: well, sort of... It's a Corn and Kumara Hotpot, definitely requires a fork rather than a spoon (but then you may have noticed a lot of our soups are like that). It's chock-full of veg: onion, garlic, celery, chickpeas, potato, kumara and corn as well as thyme and lime for zing.
This is a bit cheeky... it's the Charred cauliflower and broccoli salad with seared pork fillet on top - this is where the salad actually started and then I realised it was really good on its own... The Pork fillet is crusted in Morrocan spices and seared whole, then sliced and seared quickly again to finish off...
This Chicken and Cashew is a bit of a favourite.... It has water chestnuts as well as toasted cashews, broccoli, spring onions and chicken... Crisp and delicious... and quick. We like quick.