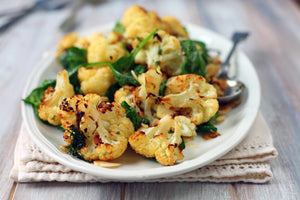 Recipes for the week starting 18th September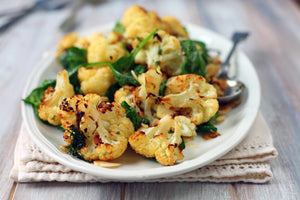 This is spiced Cauliflower with spinach and tomato - it's a traybake and the spinach is NZ spinach which is meatier than the usual sort. This is light and delicious... GF, DF, and vegan
So I made a smoked fish chowder one day and then thought to myself " I wonder if I could make a vegetable chowder that tastes this good?" Answer is YES!
There is a heap of veg in here - cauliflower, broccoli, carrots, celery and onion, spring onions, capsicum, Granny Smith apple (which is often more like a vegetable in application) and wakame seaweed... Lots of flavour, very tasty! GF, DF and vegan
This one, while it can be dairy free, is not vegan. Cauliflower and leek frittata has eggs in it, and while we could sub out the milk with coconut or other plant based milk I haven't found a reasonable substitute for the eggs. GF and can be DF.
This is why we'll have four vegetarian options from now on - to make sure there are at least three vegan recipes . Don't have a photo yet for the Yellow Vegetable Curry - but it's coming... This curry has pumpkin and carrot, an assortment of whatever other vegetables you have to hand (there will be a few...) Yellow curry paste, ginger, cumin, coriander, garlic... tomatoes and capsicum and lime juice... GF, DF, Vegan
Another curry - Chicken Rogan Josh this time ... this will be as hot as you make it, so it's up to you how much of the chilli you add. has ground almonds, tomato, garam masala as well as. complex spice blend with cumin, chilli powder, coriander, ginger, turmeric and brown sugar. And a couple of cardamom pods. Is very good. GF, DF
I will work on a better photo for this one also, because it deserves better... Peppered pork steak with apple slaw is quick and delicious. You could add some baked potato (hasselbaks are fun...) or Kumara Mash would be good; the apple slaw is simple and different enough to lift it from ordinary....GF, DF