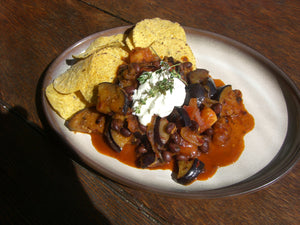 Smoky flavours for the end of September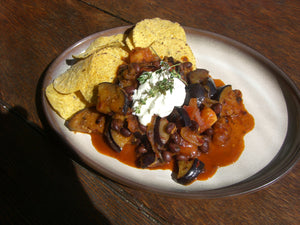 We'll start with an Eggplant and Black Bean chilli - it has Eggplant and black beans obviously, also smoked paprika, thyme, fresh chilli and the sweetness of red onions... serve it with corn chips, or tortilla or baked potato... GF, DF and vegan
More smoky flavours, with a bit of heat (at your discretion of course!): this is Smoky lentil stew, packed with secret vegetables for depth of flavour and extra goodness. It has onion, garlic, celery, carrots, fresh tomatoes, cumin and smoked paprika, chilli and lemon juice! GF, DF, and Vegan
These crispy potato pancakes are, well, crispy! Serve them with a salad or use them as a side - or a snack! There's coriander in there along with some egg, and the dipping sauce has sesame oil, garlic, Tamara and Korean red pepper flakes (Not hot, just full of flavour, promise!) They're quick and easy to make and very good whatever you decide to do with them. GF, DF and Vegan
The silverbeet pie is not vegan, or gluten free, or dairy free! You might call it a quiche, except in our household where Someone doesn't like quiche. Loves the silverbeet pie though...
The Sichuan Beef with wilted greens is quick and a bit flash - the flavours are very good. Sichuan pepper is more aromatic than black pepper, but it does still have a bit of heat. The wilted bok choi was a revelation the first time I made it! Very quick way to prepare asian greens and absolutely delicious - with oyster sauce and Tamari, sesame oil and ginger. GF and DF
The Country chicken one pot is a one-pot wonder... stacked with veg, it needs no company on the plate (although if you want to add more veg, please go ahead !) It has onion, leek, garlic, mushrooms, potatoes, and thyme and tarragon. GF and DF
So there you have it - daylight saving is on its way as well! It must be nearly summer...