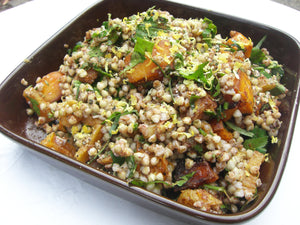 Recipes for the week of the 11th March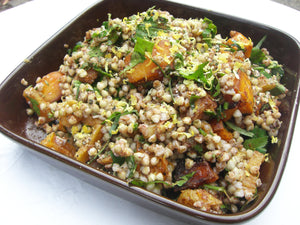 Very tasty things this week, starting with this buckwheat with pumpkin and dried Apricot. It's a warm salad I guess... has fresh flavours of lemon zest, flatleaf and mint, the nuttiness of buckwheat (toast and then cook to bring out the flavour), as well as pumpkin and dried apricots ... Vegan, DF and GF
There are a couple of very green things this week, and this is one of them: Kumara and Silverbeet soup is substantial and warming (just in case there's a break in the weather... good to have a soup recipe up your sleeve, or at least available), very simple and satisfying. Vegan, DF (Yoghurt topping is optional) and GF
this is the other one - Green risotto with Carrot puree... this may seem a bit odd, but the green risotto is also silverbeet green so the flavour is a bit earthy. The carrot puree is made from carrots roasted with apple, which are then pureed together with grated fresh ginger, so it's zingy and sweet. The combo works really well. I've shaved parmesan over this one, but you don't have to - which again makes it Vegan, DF and GF.
This curry is creamy and delicious - not complicated but the flavours melt together to make something rather special. It's an Eggplant, paneer and cashew curry and also features cream so it's NOT vegan. It's quite simple to make and is great served with either flatbreads of some kind, or plain rice.  Vegetarian, and GF
There's actually secret chicken in this Bacon and Corn chowder - tender chunks of breast coated in chickpea flour and dropped in as the chowder bubbles away - the coating makes them tender and thickens the chowder at the same time - nifty. There's a bit of fresh chilli, some broccoli, tomato, potato and of course corn. Is a meal in a bowl. Or a cup. This one is DF and GF
Sometimes you just want the the simplicity of a well roasted chicken, right? This one is butterflied (instructions on this handy technique included, will revolutionise your whole chicken cooking!) to speed up the cooking. The butterflied chicken with Paprika and lemon is roasted on a bed of chopped apple and whole garlic cloves, the skin dusted with smoked paprika and  lemon zest, with the lemon cut into chunks and tucked in to flavour the whole bird as it cooks. Yum and Yum.This one is also DF and GF.