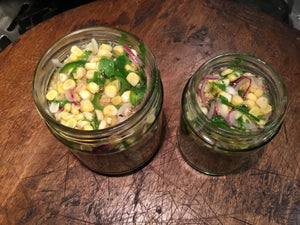 Recipes for the week starting 18th March - Anniversary day on Monday!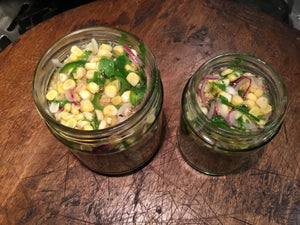 So you may have a little extra time up your sleeves to mooch about in the kitchen... This week's first recipe is for Crispy potato pancakes with fresh corn pickle  - the pickle is very photogenic! Also very tasty. The pancakes are crisp, light and an excellent vehicle for conveying said pickle to mouth. Two recipes in one, and both are vegan, DF and GF.
This Morrocan spiced Pearl Barley Salad has flaked almonds, red onion, fresh herbs by the fistful, cucumber, dried tomatoes, dates and loads of flavour also from sumac, fennel and cumin (and as much chilli as you want to add). This one also is Vegan, DF but not GF. (Could sub buckwheat for the barley if you need GF and want to try the recipe, just let me know)
This is a tray bake of roasted veg including courgettes, capsicum and chilli, and then roasted corn in a separate dish (so the corn really roasts rather than steaming in the juices from those other veg). This roasted deliciousness is flavoured with cumin, cinnamon and oregano, and some garlic... served with sour cream  and avocado - possibly a corn tortilla or two. Roasted Corn, courgettes and capsicum is Vegan, DF if you omit the sour cream and GF so long as your tortilla are made from corn! 
This savoury bake has the texture of a clafouti, with courgette and spring onions and feta being set in a custard of cornmeal, egg and yoghurt. Courgette and Feta clafouti is vegetarian and GF.
Pork, chorizo and beans just seems like a great combo - and it really is! Pretty substantial, but very good. It's one that benefits from a slow cook, so if possible maybe you could pop it in the slow cooker before heading out to work or whatever. Has chilli, garlic, white wine, tomatoes, cannellini beans and some parsley. This one is DF but I can't be sure the chorizo are GF so I'm not making any promises on that one.
I've been fortunate enough to have venison to cook with lately - not for sharing - and the same treatment works very well in this case for Lamb Rump: a dry rub of coriander and cumin, left to work it's way into the meat while you sort the potatoes, then seared. The potatoes and the lamb sit in the oven together for a bit while you do the next thing - I like dinners where each of the layers stacks inside the next one! Lamb, smashed potatoes and corn/bean combo. Is a relatively quick meal with loads of texture and flavour. Yum and Yum. Is DF and GF.