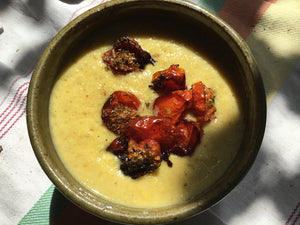 This week's recipes brought to you by the sound "K" - at the start of March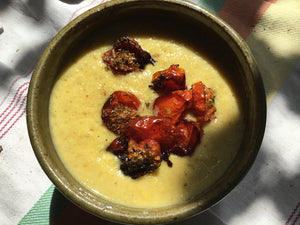 Starting with Corn Soup - deceptively simple, with depth of flavour added by the bayleaves, cumin, garlic. And then there are the cherries on top - literally: Roasted cherry tomatoes are much more than a garnish here, adding a summery flavour hit to the creaminess of the soup. Is very good. Vegan, DF and GF
Hoping to enjoy the kumara while we can - crops up north have been devastated by recent weather events so this may be the last time we see them for a while. This one is light and easy, a build-your-own opportunity for dinner which is always fun... The recipe suggests including cottage cheese but of course you can omit this for a DF version (or use Dairy free cheese options). So the Baked Kumara stuffed with stuff is Vegan, DF and GF
As the weather gets a bit more variable, the idea of a stew becomes more welcome... this Eggplant and Chickpea stew has Lebanese 7 spice, tomato and chilli giving it warmth and a bright flavour profile... you can determine just how hot it gets by deciding how much chilli to chop up and add... This one is also Vegan, DF and GF ( the yoghurt is a serving suggestion only)
These Courgette tortilla are delightful. You can stuff them, or just enjoy them on their own really! They do have cheese and egg so not vegan or Dairy free, but they are Gluten free (they have almond meal) and vegetarian.
There are times when food is just fun to make - this is one of those times.  You make tubes of thinly sliced courgette (Peel lengthways and then roll the strip into a tube), stand these upright in a baking dish, fill them with a pork mince ragu, top with grated cheese and bake in the oven. Also delicious as well as fun. It's a win all-round. If the Roll-ups with ragu sound like something  you'd like to try except for the pork mince, you can sub cannellini beans... this one is GF and potentially Vegetarian if you use the beans!
And the final K is for Kofta B'siniyah - a mix of beef and lamb mince as well as cashew, flavoured with a spice mix of cinnamon, allspice and nutmeg and some heat from as much fresh chilli as you want to add. This is all served with a lemony tahini sauce - is very good! Is also both Dairy and Gluten free.