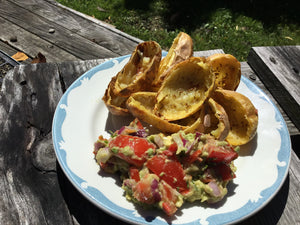 The Last Week of February! Recipes for the 25th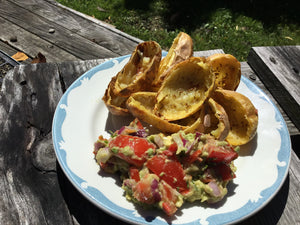 Hollowed out crispy potato skins with a really chunky guacamole/salsa are a very good time.  And then you have those insides of potato to play with another day... This seems deceptively simple, although it takes a bit of time to bake the potatoes before you hollow them out - but only a little bit of time if you do this in a microwave. This one is Vegan, DF and GF
Msa'aa is a North African roasted veg dish, it has chickpeas as well as eggplant, capsicum, courgette, potato or kumara, tomatoes, and spices and herbs, a splash of balsamic vinegar to give some depth to all those flavours... Msa'aa is vegan, DF and GF
Mapo Tofu would usually be made with mince - either beef or pork. But this version is made with brown lentils. It has soy sauce, garlic, ginger, fermented chilli bean paste and rice wine to build the flavours, it's very quick (takes as long to make the tofu dish as it does to cook the rice you put with it) and delicious. This one is Vegan, DF and GF (using a GF soy sauce like Tamari)
The Chilli cornbread is NOT gluten free nor vegan, but it is great for lunches for the rest of the week, perfect for picnics also. It uses cornmeal and flour in equal measure, has spring onions, capsicum, fresh chilli, corn kernels, cheese, yoghurt, eggs...it's Substantial without being heavy, one of my favourite recipes. The slab of cornbread pictured above was from the recipe for two, so it really does keep on  keeping on! Vegetarian, and that's all. 
It feels a bit decadent to use smoked salmon for a fish pie but honestly, it doesn't take much and it's really good. Chunks of broccoli and pumpkin inside the pie, a topping of potato and creamed corn mash... you'll be eating all the colours in one handy dish! Smoked salmon fish pie is Gluten and Dairy free (no cheese is harmed in making this pie)
And finally Chicken Shawarma - marinaded with turmeric, cumin and allspice, then grilled, these spicy tender chunks of chicken are perfect to stuff in a pita or a wrap with a crispy salad. Give it a couple of hours to marinade (or leave it in the fridge while you go to work) then it only takes 10 minutes to cook. Mmm. And so good. This one also is Dairy and Gluten free.