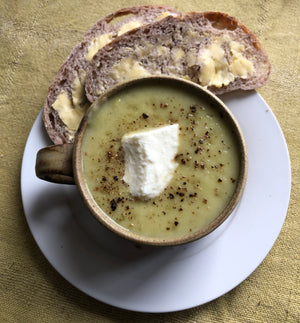 Recipes for the week starting 24th July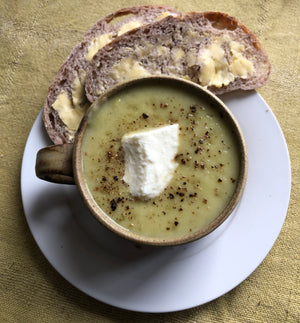 This is a potato and leek soup ... with cauliflower, and a lot of freshly grated pepper, yes, but also nutmeg which is a very fine thing. Also note the slices of Otaki Sourdough bread - shout out to Gilberts Bakery! 
I read about this simple variant on winter Roasties - adding chunks of halloumi to the mix so they get crispy as well... a very fine thing. But you know how it is, I am very committed to everyone eating their colours, so I added some broccoli, and then some cashews also because well, they taste really good... Roast veg with Halloumi - a very good time.
Vegetarian nachos are always a crowd pleaser - great flavours, good hearty food... and I'm sure we can sneak some extra vegetables in there somehow! Warm spices - cardamom, cumin and coriander to give a round full flavour. Chilli optional...
Smoked Fish Pie is the next thing ... It's creamy and delicious, with smoky goodness from the smoked hoki (or whatever you can find at your local smoked fish vendor) and these cute little lines on top courtesy of a fork and creamy mash...
And the last thing is  Sichuan Pepper steak. This is a bit flash, but super tasty and surprisingly quick. Photo inserted ... it was a very delicious lunch!