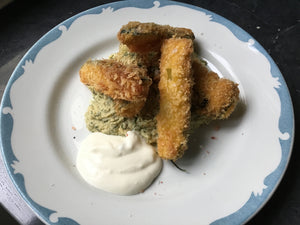 What do you mean it's the end of January already?!!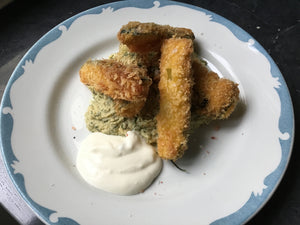 These Crispy courgette sticks with fennel hummus  might make it better...  We don't usually do deep-fried, but these are worthy of the exception. The sticks of courgette are dusted with cornflour, then dipped in egg then panko breadcrumbs, then fried - I use a wok for deep-frying cos you get depth with less volume - doesn't need as much oil. Vegan and DF (apart from the whipped feta) could be GF if you have non-gluten breadcrumb alternative.
This is Tabouleh with fresh nectarines, red onion and basil. Is fresh fresh and delicious! I softened the bulgur in veg stock rather than water and it gave it a warm comforting flavour... good contrast to the lemon, red onion and nectarine. Vegan, DF
This is a quick and easy veg bake: tomato, courgette and halloumi. It's got loads of flavour but won't demand too much of your time to put it together. Vegetarian, GF
Photo up!... It's a Kale and blue cheese pasta bake. Honestly, it'll be really tasty! and so good for you...Vegetarian, GF
This slow cooked chicken sofrito may not look spectacular, but the flavours and fall-apart tenderness really are. You just compile it and walk away, read a book, fold the laundry, do today's wordle.... is a good time. GF and DF
These wee cuties are beef and lamb kofta in a lemon and tahini sauce - Kofta B'sinyah. There's a spice blend of cinnamon, allspice, nutmeg, pepper and salt, some cashews... the lemon sauce is a delicious light finish. 
And that's it. I can hear jars of apricot preserves popping themselves sealed in the kitchen - it's that time of year!